Best Rated Cosmetic Dentist NYC | Top Aesthetic Dental Specialist in Downtown NYC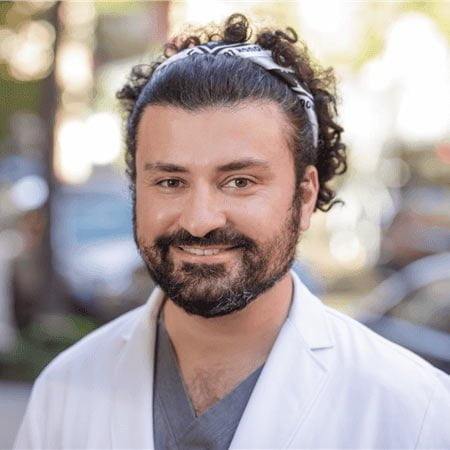 Dr. Alex Shalman
Dr. Shalman is a renowned New York City cosmetic dentist and an experienced aesthetic dental practitioner in Manhattan, delivering the highest standards of dental care while enhancing the appearance of a person's teeth, symmetrical proportions, gums, and smile lines. Well-known as one of the top New York esthetic dentistry specialists and among the best-rated cosmetic dentists in NYC, he specializes in dental aesthetics. As a skilled general dentist with additional training in cosmetic dental procedures, he emphasizes functionality and an aesthetically pleasing result with minimal discomfort. Dr. Shalman teaches at the NYU College of Dentistry and is an advisor to the NYU Aesthetics Society. He provides a range of cosmetic dental procedures such as teeth whitening, veneers, bonding, implants, and orthodontic treatments like braces or clear aligners. These treatments can improve overall function and rejuvenate your smile with stunning results and predictable longevity, significantly impacting self-confidence and quality of life. To give back to the medical community, NYC aesthetic dentistry expert Dr. Shalman actively participates in the training and proctoring residents, physicians, and top-rated local dentists. If you searched for the "best cosmetic dentists near me," make an appointment at Shalman Dentistry. Our team of highly specialized cosmetic specialists with a skilled eye for detail looks forward to meeting you and helping you attain a picture-perfect look.
Our team of the best cosmetic dentists in NYC is always grateful for feedback from our valued patients. We encourage you to describe your experience at our Greenwich Village cosmetic dentistry center and leave feedback on Google, Yelp, ZocDoc, and other platforms.
Patient Experience
Loved the amicable attitude of the entire staff. Dr. Shalman came across confident and knowledgeable really reassuring for anyone who has cosmetic dental needs. I would definitely recommend him.
Alexandra Clayton.- Google Review
Dr. Shalman and his staff are great! The practice is located in a great location in the West Village that is easy to get to. I have never had to wait! At this point I have been coming to him for over a year and have had cleanings/whitening/regular exams/fillings (he even fixed a filling that was poorly done elsewhere!) and most recently veneers (will add before and after photo his business page)! When I saw them for the first time today, it was life changing. I havent been confident with my smile ever since losing two of my front teeth as a kid and having them poorly bonded for the past 25 years. Now, I have no idea why I waited so long! He has has an amazing cosmetic eye and was very helpful throughout the whole process. I could not be happier and can't say enough about Dr. Alex - if you are looking for a new dentist, look no further!!
Robert Finney.- Google Review
Dr. Shalman and his staff are incredible! I'm always a little nervous going to the dentist but everyone there is so relaxed and happy you can't help but be in a great mood! Dr. Shalman has helped me with everything from general cleanings to whitening and even cosmetic work that I had been wanting to get. I can't recommend them enough!
Matt Devoe.- Google Review
I love this practice so much that I travel to Manhattan just for my appointments. I refer Dr. Shalman anytime someone asks for a dentist in the area, and now my partner sees him too. From using the latest technology to correcting issues from other practices, I trust this team to deliver best in class care. We never feel rushed or like just another number with him and the staff. Definitely give this friendly neighborhood dentist a try!
JD.- Google Review
After one visit, I was seriously impressed by Dr. Shalman's empathy, professionalism and artistic eye for cosmetic procedures. For my procedure I had laser gum surgery, 10 veneers placed up top and my bottom teeth whitened. His mindset aligned with exactly what I was looking for - making sure my teeth looked natural and the shade was a "clean white" instead of a blocky-fake looking white so I was left with a really nice smile, not noticible veneers. If you are looking for an incredible dentist with a fantastic staff - this is your guy!
Madeline Lawlor.- Google Review
Dr. Shalman is truly the best dentist! He's extremely knowledgeable and very caring. My family and I began seeing Dr. Shalman in Metuchen, NJ and have followed him to NYC! Dr. Shalman's kindness and expertise are worth the travel.
Neelam Gidwaney.- Google Review
Dr.Shalman did an amazing job with my preventative cleaning and check up. He is gentle yet thorough and has a calming demeanor. Highly recommend him and his team for routine dental work as well as cosmetic improvements.
Gary Linkov.- Google Review
Dr. Alex and his staff are the best! I have been his patient for 2 years and not once during that time have I dreaded going to the dentist. They take the time to answer your questions and assuage any concerns. I highly recommend him to anyone seeking quality dental care.
Jacob Eidinger.- Google Review
Dr. Alex is a gifted Cosmetic dentist that truly cares about his patients. He does amazing work!
Lyndsey Botelho.- Google Review
It is always tricky to find a good dentist. When My friend referred me to Dr. Alex, I said I would give it a try. Honestly, I wasn't excited about it because I have tried several dentists, and no one has ever provided a permanent solution to my issues. Here I am two years later; I can say with confidence that Dr. Alex and his team are the best. They are flexible, efficient, and reliable.
Kofi Teye.- Google Review
Dr. Shalman was - hands down - the best dentist I've ever been to in my life. I got there early as I had an hour to kill and he welcomed me in, offered to hang up my coat, offered to make me an espresso, and his lobby was nicer than any cafe I've ever been to. The manner in which his staff and he worked with me on my teeth and my worries and my priorities was second to none. I hope I get to go to Dr. Shalman for a long time in the future - he is simply the best dentist I've ever been to in my life. I was floored by his office and raved about it to my friends afterwards. Best medical experience I've had yet!
Peter Atkinson.- Google Review
This dental office is the best I've been to. First of all it looks like an art studio, super cool. Alex and his team are the nicest people and the dental technology they use is top-notch. I got a teeth whitening and juvederm and people keep on complimenting my smile. Best Dentist office in New York City for sure !!
Blue.- Google Review
How to Find the Best Cosmetic Dentists Near Me
When looking for effective ways to improve your smile appearance and overall dental aesthetics, choose an experienced cosmetic dentist specialized in correcting tooth defects, asymmetries, and shape or rotation problems using advanced restorative as well as prosthetic materials and techniques and implementing digital 3-dimensional planning technologies to create truly natural, individual, and aesthetic smiles.
Instead of searching "best cosmetic dentist near me" and choosing the first option you see, locate cosmetic dentistry employing dental practitioners with a proper understanding of the natural aesthetic parameters, anatomy, and physiognomy. Make sure the dentist you choose provides a comprehensive, patient-friendly, and minimally invasive smile redesign with an emphasis on psychology, health, function, and esthetics.
How to Choose the Best Cosmetic Dentist in New York City
When it comes to effectively correcting aesthetic issues with your smile, your best bet would be investigating the best cosmetic dentists in NYC and choosing a renowned dental practitioner who can help you achieve the pleasing composition of the smile by creating a proper arrangement of various esthetic elements, such as your teeth's color, position, shape, size, and alignment.
Dr. Shalman will carefully evaluate your teeth's natural aesthetic parameters, anatomy, and your physiognomy in order to improve overall function and rejuvenate your smile with stunning results and predictable longevity using the most advanced restorative and prosthetic materials and techniques, as well as cutting-edge digital technologies.
Our dentists are some of the best cosmetic specialists NYC offers, focusing on cosmetic treatments using teeth whitening, dental veneers, dental bonding, dental implants, and orthodontic treatments like braces or invisalign clear aligners. Our clinic's internationally recognized aesthetic practitioners are skilled in creating a picture-perfect smile makeovers.
Do you have questions for the top cosmetic practitioners near you in New York City? Would you like to schedule an appointment with the team of the best-in-class cosmetic dentists led by Dr. Shalman? Please call us (212) 658-1093 for directions to a Shalman cosmetic dental center.
Shalman Dentistry
44 W 10th St #1A
New York, NY 10011
(10th St, between 5th & 6th Avenue)
☎ (212) 658-1093
Get Directions (Map)
Back to top