Cosmetic Dental Bonding NYC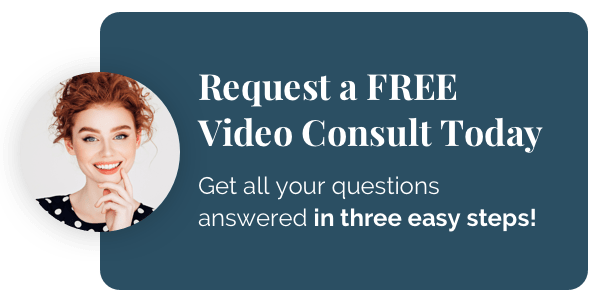 Dental bonding is a cosmetic procedure that involves the use of tooth-colored material to cover or alter the shape of teeth. Dr. Alex Shalman's boutique dental practice specializes in brightening your smile and concealing minor flaws in your teeth or gums that affect your appearance. Dr. Shalman, an expert in general dentistry techniques and cosmetic dentistry magic, offers dental bonding as a way to fix discolored or chipped teeth. While you may prefer a complete smile makeover with Invisalign retainers or dental veneers, you have other options, including starting with just one tooth. Don't put up with unattractive front teeth any longer; contact Dr. Shalman today to learn more about dental bonding.
What Is Dental Bonding?
Dental bonding in NYC is a cosmetic dentistry procedure used to correct surface tooth defects. A tooth-colored composite resin is used as the primary material in dental bonding, and it is applied, shaped, and polished to look like your other teeth. Whether as a result of years of poor oral hygiene, poor eating habits, or just aging, the outer enamel layer of your teeth suffers damage, which often results in:
Discoloration
Chipping
Other imperfections
I have always been in the dental industry, and what I mainly cared about was having healthy teeth and gums. I always ate well, exercised and took great care of myself, and when I saw Dr. Shalman's other work it occurred to me that it was the right time to have my own Smile Makeover. Now I love my smile and get compliments on it all the time!

Ella Kotler
These flaws affect your appearance, which may cause your confidence to wane when in public. Teeth bonding is a simple and effective way to solve this problem. It's also much less expensive than other cosmetic procedures like dental crowns or dental veneers.
Dr. Alex Shalman`s boutique dentistry office uses cutting-edge techniques to correct discolored teeth and other dental problems. This family dentist emphasizes more than just the function of your teeth. As a result, he has established himself as a leading authority in smile makeovers and cosmetic dentistry procedures.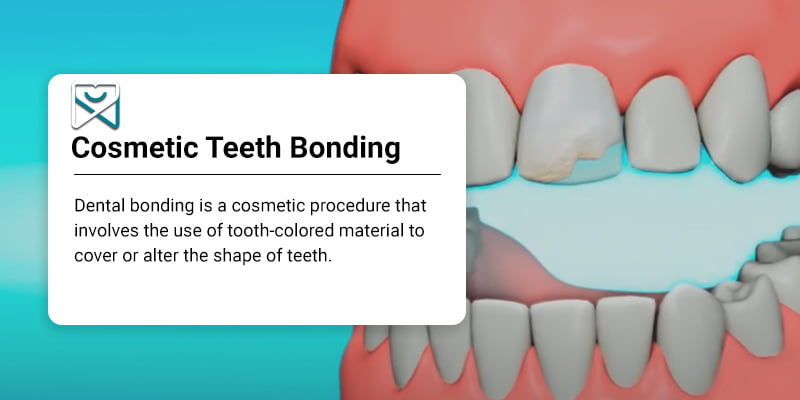 Why Do I Need Dental Bonding?
As you develop a relationship with Dr. Shalman, you learn that he's highly qualified and genuinely concerned about your overall well-being. If you approach him with questions about your teeth' appearance, he carefully explains your options, including dental bonding and other cosmetic procedures that you have never considered before. Your dentist may recommend teeth bonding for various reasons, including when you experience conditions such as:
Chips or cracks in your front teeth or imperfections that are obvious when you smile;
Stained or discolored teeth;
Large gaps between your front teeth that bonding can fill;
Using bonding resin as an alternative to amalgam or metallic fillings that stand out;
Decayed teeth that have been saved, but now are unsightly;
Small teeth that can be shaped to make them look longer.
You will receive personalized care to treat your dental problems at Dr. Shalman's boutique dental practice in Manhattan. Whatever the nature of the damage to your teeth, the dentist has a diverse range of effective procedures that promote your oral health and wellness, as well as your appearance.
What Are the Steps in Dental Bonding in New York City?
Dr. Shalman can complete a dental bonding procedure in a single dentist visit, but it involves several steps. The process takes approximately 30 to 60 minutes per tooth. Because he's a perfectionist, Dr. Shalman spends time preparing a resin composite that perfectly matches the rest of your teeth. This gives you a natural look, hides the imperfection, and restores your smile. To complete your tooth bonding, your dentist typically:
Examines the damage to your teeth, as well as your overall oral health;
Chooses a composite resin color by using a chart to find the most fitting color that fits the neighboring teeth;
Prepares the tooth by roughening up the tooth surface to receive the composite resin;
Distributes a conditioning liquid to ensure the bonding material adheres well to the damaged tooth;
Applies the composite resin material, which looks like putty at this stage;
Molds the resin to your teeth's surfaces, shaping it to blend in with your other teeth;
Hardens the material with a special LED light;
Trims and shapes each tooth with dental tools;
Polishes the bonding to match the rest of your teeth;
Finishes the procedure with a final bite check and appearance review.
What Material Is Used in Teeth Bonding?
Composite resins are dental cements made of synthetic resins. They are highly translucent, have high compression strength, are abrasion-resistant, and are easy to apply. Composite resins are ideal for addressing many problems, including chipped, cracked, worn-down teeth, or teeth that are a bit too small or not an optimal shape. If you have one or two teeth that are slightly out of alignment, dental bonding can help to bring them back into line.
More esthetically-pleasing alternative to metal fillings or restorations, composite resin comes in a huge range of different shades, including special materials to closely replicate the more transparent tooth enamel found on the biting or incisal edge of teeth.
What Are the Advantages of Teeth Bonding?
There are various reasons to choose dental bonding if you're looking for the best dental procedure to fix damaged teeth, including:
Affordability. Cosmetic dental bonding is the most affordable cosmetic procedure and can provide stunning results.
Time. Bonding is a much faster way of fixing damaged teeth than dental crowns or veneers. The procedure is non-invasive. Your dentist only removes a minimal amount of the enamel layer to create a good foundation for the composite resin material.
Comfort. There's absolutely no pain during the procedure, and you'll never know you've had bonding afterward.
Versatility. Bonding is an exceptional procedure that your dentist can use to correct a wide range of cosmetic imperfections.
What Are the Potential Disadvantages?
Because composite resin is not as durable as other materials like porcelain, you must take care of bonded teeth and avoid habits like crunching on ice, chewing on pencils or pens, or opening packets with your teeth. All of these are bad behaviors that your dentist would disapprove of! Furthermore, composite resin will stain and discolor over time, especially if you eat brightly colored foods, smoke, or drink a lot of coffee, tea, and red wine. Composite resin restorations are typically replaced every few years, but they can last anywhere from three to ten years, depending on your oral habits.
There are numerous benefits to using dental bonding to improve the appearance of your smile, especially if you want to make only minor changes. Maintaining a good oral hygiene routine will help you keep your bonded teeth looking good for longer. Brush your teeth twice a day and floss once a day. Regular dental checkups and cleanings are also essential.
Dental Bonding Before & Afters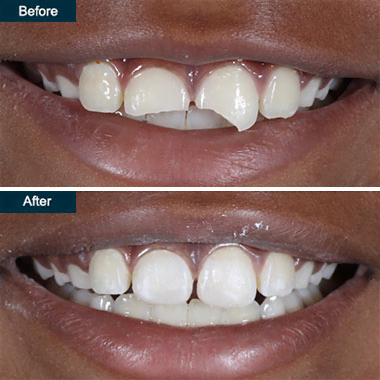 Caring for Bonded Teeth
Although the composite resin material is quite strong, it must be handled with care. Correct care will help extend its natural life, but you must be prepared to replace these types of restorations after a few years. Although dental bonding is long-lasting, it will chip or crack if you use your teeth as tools or try to bite down on something hard. If an action has the potential to harm your natural teeth, it is almost certain to harm composite resin as well and should be avoided.
In addition, composite resin can become stained after a few years of use. It is unavoidable, but you can slow the staining rate by avoiding highly colored foods or thoroughly rinsing your mouth with plain water after eating. Drinking highly colored liquids through a straw may be helpful to avoid contact with your teeth. Bonded teeth can be brushed and flossed in the same way as natural teeth. Brushing at least twice a day and flossing once a day is essential.
Remember to schedule regular checkups and cleanings with your dentist. These preventative dental care visits are necessary for the dentist to regularly check your restorations' condition and notify you when they need to be replaced. Regular dental cleanings remove plaque and tartar from your teeth and are great for brightening your smile.
Dental bonding is an excellent option if you want to make make a slight adjustment to your smile but do not want to undergo extensive treatment. It's a procedure that will subtly refresh your appearance while also giving you a mini smile makeover. Composite resin, which we use in dental bonding, can also fill cavities in back teeth. If you have a cavity, your dentist will most likely recommend filling it with tooth-colored composite resin rather than an old-fashioned amalgam. If you still have amalgam fillings, replacing them with composite resin can help improve the appearance of your smile.
How Long Does Dental Bonding Last?
The results of the dental bonding procedure usually last between 3 and 10 years before requiring touchup treatment. Your bonding's lifespan will depend largely on your personal habits. Paying special attention to your oral health and dental hygiene, practicing good and smart day-to-day habits, and visiting your dentist twice a year, will help ensure their longevity. Typically, the longevity of your bondings is determined by various factors, including:
The type of composite material used;
The area where dental bonding is applied;
The amount of bonding material applied;
The condition and strength of teeth on which bonding is applied;
The presence of bad habits like nail-biting, teeth-gritting, and excessive consumption of foods and beverages harmful for teeth health.
While tooth bonding is a quick and easy way to repair damage and conceal discoloration, it does not last forever.
Dental Bonding Vs. Veneers
Both dental bonding and veneers are treatments that can help improve the overall appearance of your teeth, but each works a little differently. One of the major differences is that dental bonding is a treatment that can often be completed in a single visit to your cosmetic dentist, who applies the material used in the dental bonding chairside. In contrast, dental veneers usually require two or more visits and are called indirect restorations meaning they are made outside of your mouth and are not created chairside. Each can be very effective, depending on whether you want to change your smile significantly or are looking to make more subtle improvements. Yet another difference is the price, as dental bonding is more affordable than dental veneers.
Dental bonding is quick, cost-effective, and provides excellent yet subtle results. It is a good treatment to consider if you only want to enhance the appearance of your teeth and do not wish to change your smile significantly. The bonding material should last for several years, but it can become stained over time and need replacing to keep your smile bright and beautiful.
One of the biggest advantages of choosing porcelain veneers is that they cannot stain and remain the same shade throughout their lives. However, treatment is more expensive initially compared with dental bonding, and it is irreversible because some of your natural tooth structure is removed.
If you are looking for a quick, inexpensive solution to help rejuvenate your smile, dental bonding could be just the thing. Otherwise, if you seek something more permanent or are looking for more significant results, consider porcelain veneers.
Shalman Dentistry
44 W 10th St #1A
New York, NY 10011
(10th St, between 5th & 6th Avenue)
☎ (212) 658-1093
Get Directions (Map)
Back to top