Dental Veneers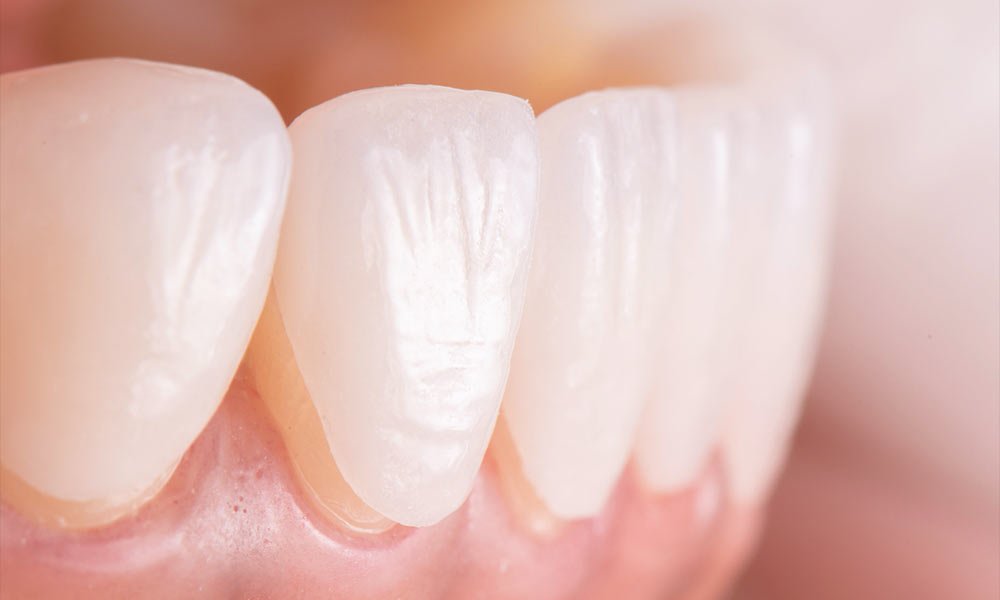 With so many cosmetic dentistry options on the market today, it's become more important than ever to build a relationship with a dentist who keeps up with the latest trends and gives you straight answers in a timely manner. Dr. Shalman operates a boutique practice that provides exceptional care and customer service in New York City's Downtown Manhattan district. Dental veneers, for example, are one option that may be the right solution for your discolored or chipped teeth. On the other hand, if you need other dental issues addressed first, Dr. Shalman is also a general dentist who performs every routine dental procedure. Call his office today to set up an appointment to look and feel your best.
What Is Dental Veneer?
A dental veneer is a thin porcelain or composite resin covering bound to the front of imperfect teeth to improve their appearance. The custom-made shells often play an integral role in a smile makeover. They're also a more permanent alternative to teeth whitening or other solutions to correct teeth discoloration.
Dr. Alex Shalman is incredible – and I don't put this lightly. I take my oral hygiene very seriously, and Dr. Shalman was beyond thorough. He caught a tiny cavity between two teeth – I'm actually excited to see him again and have him work his magic! I trust him completely; you can tell from how he speaks with you, how he approaches his assistant, and the diligence with which he works, that this is passion; he performs with integrity and honesty. His bedside manner is unparalleled, too – from sanitizer when I walked in to ask what music I'd like to listen to, he truly considers every aspect of his client's comfort. I cannot recommend him enough!

Maegan Gindi
If you've tried other procedures to improve your smile without success, it's time to consult Dr. Alex Shalman at his boutique dental office in Downtown Manhattan. Nicknamed "The Artist of the Smile," he's an expert in oral health and smile makeovers. It's due to his attention to detail and his care for your overall health. Dr. Shalman first assesses the extent of the damage to your teeth. Then he can determine if you're a good candidate for dental veneers. Specializing in cosmetic dentistry in New York City, he serves families in the West Village, East Village, Chelsea, and the surrounding Lower Manhattan neighborhoods.
How Do Dental Veneers Work?
A dental veneer covers the damaged part of your enamel to restore your smile. In most cases, no other dental approach can correct stained or discolored enamel so effectively. When making veneers for your tooth, your dentist is careful to fit and look like the rest of your teeth correctly. Dental veneers are a permanent solution.
The procedure used to place them in your mouth depends on the type of custom veneers your dentist recommends, such as:
Porcelain veneers. These are lab-made coverings of porcelain material. They are made-to-measure. Your dentist removes a small amount of enamel from the front of your tooth and forms a mold to create an impression for the area to be covered. The mold goes to a lab where the custom porcelain veneer is constructed. Dr. Shalman tests it on your affected tooth to ensure it looks natural among your other teeth before cementing it in place.
Composite veneers. Resin-based composite prepless veneers are prepared by your dentist and fixed directly onto the affected tooth. The dentist first cleans, reshapes, and thoroughly prepares the tooth before bonding and sculpting the color-matched composite material onto the tooth. He then adjusts the shape to get the most realistic natural look for the veneer. A special light dries the composite material, and the dentist smooths and polishes it to look like a real tooth.
Who Needs Dental Veneers?
When your tooth suffers damage due to decay, physical injury, or any other reason, dental veneers can resolve this problem by restoring the natural look of your teeth.
You're the right candidate for veneers teeth if your teeth and gums are healthy, and you have:
Discoloration or permanently stained teeth, especially if they affect your self-esteem.
Decayed teeth that can be saved but still look unappealing
Minor cosmetic problems such as gaps between teeth, chips, cracks, minor misalignment, or crooked teeth
Dullness or naturally darker teeth when you want a more dazzling smile
At his Lower Manhattan dental practice, Dr. Shalman uses the latest dentistry technology to assess the extent of damage to your teeth. Then he may recommend dental veneers for better oral health and a more attractive smile. Before commencing the procedure, he explains the cost of your dental veneers, the steps involved, how to prepare for the procedure, and the aftercare for your veneers.
Because veneers are permanent and a thin layer of enamel must be removed to cement them in place, you may be interested in alternatives to veneers, including:
What Are the Benefits of Dental Veneers?
Dental veneers help you reclaim your smile. A beautiful smile is powerful and can help in many aspects of your life.
Other benefits of veneer dental coverings include:
Restoring your natural teeth appearance
Boosting your self-confidence and self-esteem
Remaining stain-free
Being perfectly suited for the best fit, appearance, and color for you
Looking better than dental crowns
Promoting healthier gums
How Much Do Porcelain Veneers Cost in New York?
Dental veneers in New York can cost anywhere from $450 to $2,600 per tooth, depending on the type. Composite veneers are the most affordable veneer choice, costing between $450 and $1500 per tooth, whereas porcelain veneers cost between $900 and $2,600 per tooth.
You don't have to continue suffering from discolored or crooked teeth. At Dr. Shalman's boutique clinic, you get a chance to get your smile back and enjoy life more. The dentist who also lectures at NYU College of Dentistry uses cutting-edge cosmetic dentistry techniques to promote oral health while helping you look your best. Contact Dr. Shalman today for a life-changing appointment with the dentist.
Shalman Dentistry
44 W 10th St #1A
New York, NY 10011
(10th St, between 5th & 6th Avenue)
☎ (212) 658-1093
Get Directions (Map)
DISCLAIMER: PLEASE READ CAREFULLY

This website's purpose is to provide general dentistry information. None of the details given is intended to be taken as authoritative dental advice. It's important to speak with a dentist in NYC about your problems, as it may be a symptom of a serious underline condition. For an accurate diagnosis and treatment plan, a detailed oral examination should always be performed. Make an appointment with your nearest healthcare provider or call our Lower Manhattan practice to set up a consultation.