What is the Difference Between Veneers and Lumineers?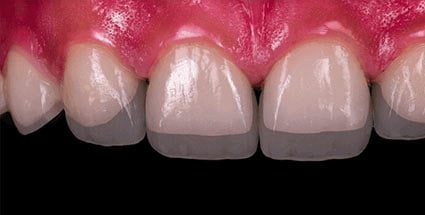 Cosmetic dentistry is enormously popular and can provide wonderful results. One of the most frequently used procedures is porcelain dental veneers and which can correct many dental problems.
Veneers are used to hide:
Substantially stained teeth
Discolored resin fillings, as a result of the exposure to excessive fluoride (fluorosis), antibiotics, and especially tetracycline, or older root canal treatments
Small or oddly shaped teeth, or which have become worn down
Small chips or cracks
Unsightly gaps in between teeth
Treatment is enormously versatile and is often used in combination with other procedures including:
Orthodontics
Teeth whitening
Crowns and bridges
Veneers are frequently used in extensive smile makeovers and can provide the type of perfect smile usually sported by movie stars and other celebrities. If you are considering any veneers, you must have reasonably strong and healthy teeth that don't have large fillings which could weaken the overall structure of the tooth. Also, you mustn't clench and grind your teeth, which is a habit called bruxism. Clenching and grinding can cause terrific damage to natural teeth and could easily chip and crack veneers.
There are two types of dental veneers:
Conventional veneers made from ordinary porcelain
Lumineers
Understanding how each veneer works and the process involved can help you decide which treatment is best.

Conventional Porcelain Veneers
Conventional porcelain veneers are made to fit tightly over the front surfaces of teeth.
They are thin custom-made shells of porcelain, a bit like false fingernails except for teeth! The veneers are bonded onto teeth and once in place are reasonably strong. Because they are made from porcelain, they cannot stain or discolor.
Usually, conventional veneers are about 0.5 mm in thickness. Although they are very thin, if they were to be placed directly over the front surface of a tooth, it would almost certainly look and feel too bulky and unnatural. To prevent this from happening, Dr. Alex Shalman prepares teeth before fitting dental veneers. This is done using a local anesthetic to prevent any discomfort as the dentist removes approximately 0.5 mm of tooth enamel from the front surface of the tooth. Once the tooth is prepared, a detailed dental impression is made of the mouth and is sent to the dental lab.
The dental lab uses the impression to custom make the veneers, ensuring they fit precisely over the prepared teeth. It's a process that usually takes a couple of weeks to complete, and during this time, the dentist must fit temporary veneers as otherwise, the prepared teeth would feel too sensitive. When the permanent veneers are ready, the temporary veneers are removed. The dentist will try in the new veneers, getting the patient's approval before they are permanently bonded in place.
It's a tried and tested technique that can produce great results, and with the proper care, the dental veneers can last for ten years or more. However, it's important to realize that the shape of the teeth is changed permanently. Once natural tooth structure is removed, it can only ever be restored artificially.
If you choose to have these veneers, you must know that treatment is irreversible, although most people when they realize the improvement to their smile are unlikely to want to reverse the procedure. Also, when you remove the protective enamel layer of a tooth, it does potentially increase the risk of that tooth becoming decayed and infected in the future. This could happen as the veneer begins to age and when it may start to let in disease-causing bacteria.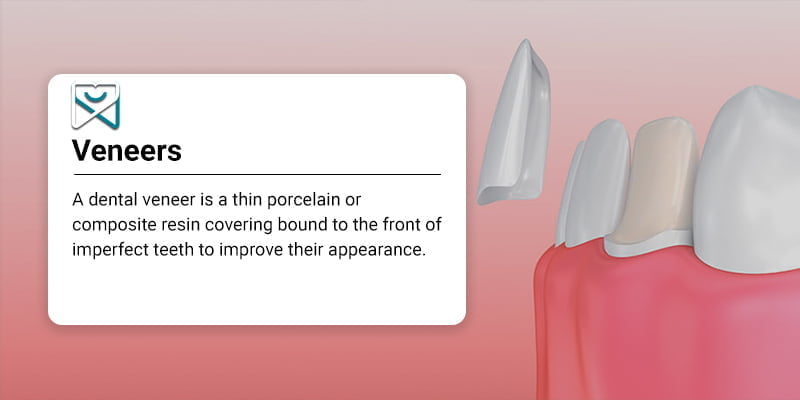 What Makes Lumineers Different?
Lumineers are also veneers, but the way they are made and fitted is quite different, and they are made from a different material too.
Although they are still made from porcelain, Lumineer porcelain is stronger and more translucent. Because the porcelain is more translucent, it can create extremely natural-looking effects, mimicking the appearance of real teeth very accurately.
Lumineers Are Ultra-Thin
One of the most important things about Lumineers is their thickness as they are ultra-thin. Whereas ordinary porcelain veneers are approximately 0.5 mm in thickness, Lumineers are approximately 0.2 mm in thickness. Those few millimeters can make all the difference to the way these veneers are fitted.
Unlike ordinary veneers where a minimal amount of tooth structure must be removed, Lumineers can often be fitted straight over your natural teeth. They can even be fitted over aging crowns and bridges, rejuvenating their appearance.  Just like ordinary veneers, Lumineers cannot become stained or discolored.
If you do decide to opt for Lumineers, the process is relatively quick, and you will only need a couple of appointments of approximately an hour each.
First Visit
During your first visit, Dr. Shalman will:
Discuss your aims for treatment
Examine your teeth to make sure Lumineers are appropriate for you
Take a detailed impression of your teeth
Take photos
X-rays
All this information is sent to the dental laboratory who will make your Lumineers. That is it! There is no need for local anesthesia, and no need for the dentist to reshape your teeth or to place temporary veneers.
Next Visit
During your next visit, your Lumineers will be ready to try in and can be permanently bonded onto your teeth.
The bonding process requires your dentist to:
Lightly etch your teeth
Slightly roughen the tooth surface, which creates a better bond with the Lumineer
Now all you need do is to enjoy your new smile.
It's also worth talking about the potential longevity of Lumineers, as some people who have received this treatment have been enjoying their Lumineers for twenty years. Although they are slightly more expensive compared with conventional dental veneers, they can be more cost-effective in the longer term.
Porcelain veneers and Lumineers are both excellent treatments that have helped many people achieve their dream smile. The best way to discover if they could help you and which type will most suit your needs is to talk to your neighborhood cosmetic dentists. Not everybody is suitable for porcelain veneers, and Lumineers work best in specific situations, but now you know a bit more about both these options, you can discuss them more fully with your dentist.
For more information about Veneers and Lumineers at Shalman Dentistry, visit our NYC dental center or call us: (212) 658-1093
Shalman Dentistry
44 W 10th St #1A
New York, NY 10011
(10th St, between 5th & 6th Avenue)
☎ (212) 658-1093
Get Directions (Map)
DISCLAIMER: PLEASE READ CAREFULLY

This website's purpose is to provide general dentistry information. None of the details given is intended to be taken as authoritative dental advice. It's important to speak with a dentist in NYC about your problems, as it may be a symptom of a serious underline condition. For an accurate diagnosis and treatment plan, a detailed oral examination should always be performed. Make an appointment with your nearest healthcare provider or call our Lower Manhattan practice to set up a consultation.