Dental Bridges in NYC
When you're missing teeth, you may experience a number of related consequences, from social embarrassment to poor digestion because you don't chew your food properly. Missing teeth can cause a slew of physical and emotional problems that you never considered. There's no reason to suffer any of these side effects when you can visit a boutique dental practice in nearby Downtown Manhattan. Dr. Alex Shalman is an expert at restorative procedures like bridges and crowns. To live your best life and for a wide range of missing teeth repair options, call Dr. Shalman's dental practice today.
What Is a Dental Bridge?
A dental bridge is a fixed prosthetic device cemented between existing teeth to fill a gap left by a missing single tooth or several missing teeth. This device bridges the gap between two healthy teeth or stable dental implants, called abutments. A dental bridge restores your smile and keeps your existing teeth from shifting into the gap.
I absolutely love going to Shalman Dentistry because it's such a comfortable experience. My teeth are very, very sensitive and Dr. Shalman and his team do everything necessary to make me feel relaxed. The intimacy of this beautiful office, with it's awesome music and friendly staff makes my dental visits feel like I'm amongst friends. I had some wisdom teeth removed over the summer, which I was very nervous about (I had been putting it off for almost a decade!) I was taken care of with the utmost attention and consideration. The procedure and healing process afterwards was a breeze thanks to this team! Much gratitude. Highly, highly recommended for all your dental needs.

Sophie Bolvary
The bridge is held in place by dental crowns on both sides. A dental bridge consists of one or more false teeth, known as pontics, that are kept in place by abutments on either side. Porcelain is the most popular material used to make a pontic, though metals such as gold are also utilized.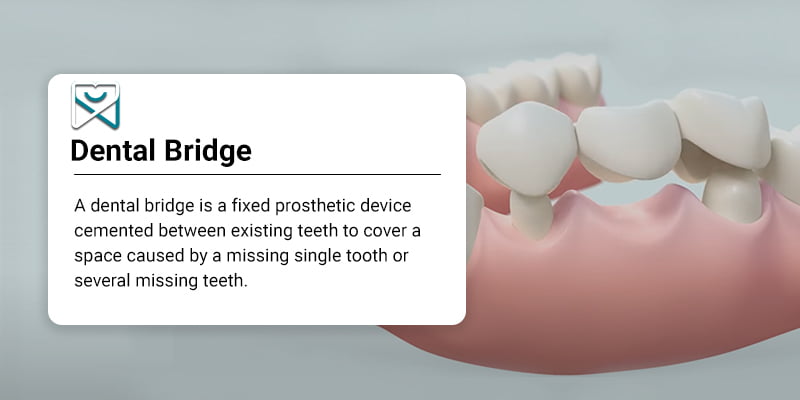 Is a Dental Bridge a Cosmetic Dentistry Procedure?
A bridge not only improves your smile by replacing missing teeth but also serves a functional purpose. Replacing missing teeth, for example, allows you to effectively chew abutments. Dr. Alex Shalman pecializes in the creation of bridges and crowns as part of a smile makeover. His Lower Manhattan boutique family practice a wide range of general and cosmetic dentistry. At his state-of-the-art facility, Dr. Shalman, who also teaches at the NYU College of Dentistry, provides individualized care, using the latest dentistry techniques to perform a range of cosmetic and functional dental techniques, including:
Why Do I Need a Dental Bridge?
A number of your bodily systems are disturbed when you lose teeth due to decay or injury. A bridge replaces those teeth while also improving your health and appearance. Dr. Shalman may recommend a dental bridge to achieve a series of benefits, such as:
Maintaining the shape of your face;
Restoring your smile;
Improving your ability to chew all foods for proper digestion;
Improving your speech and pronunciation;
Boosting your confidence, especially in public;
Fixing your bite;
Preventing further gum deterioration around the missing teeth.
There are numerous causes of tooth loss, ranging from a sports injury or a vehicle accident to untreated cavities or advanced gum disease. Missing teeth necessitate the use of a dental bridge, which is a game-changing dental treatment. Before starting your dental bridge procedure, Dr. Shalman evaluates the source of your tooth loss and addresses it.
What Are the Benefits of a Dental Bridge?
A fixed bridge is a great solution for restoring a smile that has been used successfully for many years. This treatment can be a perfect option if your abutment teeth already have dental crowns or are decayed and will benefit from being crowned. Other benefits that come with getting a dental bridge include:
Restored function. A bridge restores your teeth' function, such as chewing and speaking correctly.
Fast, minimally invasive procedure. The bridge is quick to make and install. It could be in place within a few weeks.
Prevention of additional dental problems. A bridge stops your remaining teeth from shifting and causing issues with your bite.
Dental Bridge Before & Afters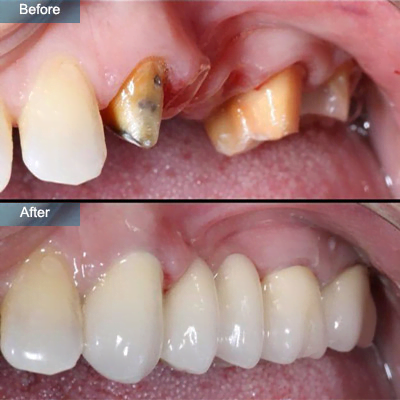 What Types of Dental Bridges Are Available?
Dr. Shalman checks your gums and teeth before going over your medical history. If a dental bridge is still a viable option for you, he recommends one of the following types:
Traditional. This is a bridge consisting of one or two pontics, held in place by dental crowns as abutments on either side.
Cantilever. A bridge fixed to a single abutment tooth, instead of two abutments.
Maryland resin-bonded bridge. Similar to a traditional dental bridge, this type of bridge uses a metal and porcelain framework.
Implant-supported. This bridge is supported by a single dental implants oon either side. The implants either replace the existing abutment teeth or are inserted as the bridge's outermost teeth.
A dental implant is a post that's inserted into your jaw and capped with a crown to anchor a pontic. The post of an implant replaces the tooth root. Usually made out of titanium metal, the implant post is anchored permanently into your jaw bone, where it fuses with the bone over time. After the fusing process, a permanent crown is screwed onto the implant post to create a permanent replacement tooth that can anchor a dental bridge.
What About a Dental Bridge vs. Implant?
Dr. Shalman may offer you the choice of a dental bridge vs implant if you have a missing tooth or teeth. He provides his own recommendation based on the pros and cons, such as:
Cost. Dental bridge cost is lower than a dental implant.
Durability. A dental implant is more permanent than a bridge.
Aesthetics. Both a bridge and implant give you a dental makeover that's natural-looking.
Placement. A bridge can replace one or several missing teeth in a row. An implant can replace a single tooth, several single teeth or a whole set of teeth, as is the case of denture implants.
Complexity. A dental implant is more invasive and takes more time compared to a dental bridge.
Which dental procedure is best for a missing tooth? How long does a dental bridge last? NYC dentist Alex Shalman answers these questions for you. Both replace missing teeth, but they're best for different candidates. Discuss the two options during your initial consultation.
What Is the Process of Getting Dental Bridges?
After ensuring that your adjacent teeth are suitable for supporting a dental bridge, your dentist will reshape them using local anesthesia to guarantee your comfort. Dental crowns require removing a small amount of tooth structure. Otherwise, they will feel bulky and unnatural. Once the teeth are shaped, your dentist will take a detailed dental impression of them.
The impression is sent to the dental lab, where your dental bridge is made according to your dentist's instructions. It is a detailed process that can take a few weeks to complete, and in the meantime, your teeth are protected with temporary crowns or a temporary bridge. When the permanent bridge is finished, you return to the dental office to have the temporary crowns or bridge removed. Before permanently cementing the bridge in your mouth, your dentist will try it in and slightly adjust it.
What Is the Recovery from Dental Bridge Placement?
You can go back to your normal routine as soon as the next day after getting a dental bridge. However, you should consult your dentist to avoid unwanted complications such as minor soreness, tenderness, and bleeding in your gums. Depending on the procedure's intensity, your gums may take a few weeks to heal. You may also notice increased sensitivity to heat and cold a few days after your treatment. Immediately report to the dentist if your symptoms worsen, last longer than expected, or if you experience any of the following:
Difficulty breathing;
Swelling in your mouth or tongue;
Highlighted pressure from biting and chewing soft foods.
Following bridge placement, some patients may also develop a slight speech impediment or the sensation that their bite is slightly off. In general, it may take a week or two for you to get used to the feel of the crowns and bridge.
When Should I Get a Bridge?
A missing tooth or teeth creates physical and emotional issues, so get a bridge as soon as possible after losing any teeth. If you're in Lower Manhattan, the West Village, East Village, Chelsea, or anywhere near Downtown NYC, you now have a solution to this debilitating dental problem. Don't wait any longer than necessary.
How Do I Care for My Dental Bridge?
Good oral hygiene is vital for prolonging the lifespan of any dental bridge, regardless of the material used or the type provided by your dentist. A dental bridge can last ten years or more with proper care. However, it is critical to brush your natural teeth and your bridge at least twice a day and floss around your teeth and your dental bridge at least once a day. Flossing around the dental bridge requires a slightly different technique, but don't worry, your dentist will show you how after your treatment is completed. Also, to preserve and protect your bridge and natural teeth, schedule regular checkups and professional cleanings.
Is the Tooth Bridge Procedure Painful?
A dental bridge procedure is relatively quick, simple, and painless, with minimal side effects and risks. Because getting a dental bridge requires prepping your teeth for dental crowns, your dentist will numb them and surrounding tissues with Novocain or the other numbing agent to ensure your comfort during the treatment.
What Is the Cost of a Fixed Dental Bridge in NYC?
The cost of a dental bridge in New York ranges from $500 to $1,200 per artificial tooth. There are a number of factors at play when it comes to the price of a dental bridge, including the number of teeth being replaced, the type of bridge used, and any additional dental treatments required before placing a dental bridge.
Shalman Dentistry
44 W 10th St #1A
New York, NY 10011
(10th St, between 5th & 6th Avenue)
☎ (212) 658-1093
Get Directions (Map)