Denture Implants
While traditional dentures have been around since before George Washington — and have improved considerably since those days — the latest development in artificial teeth are more functional, better-looking and permanent teeth replacements. Denture implants are held in place by four to six implanted posts, put in place by a minor surgical procedure. Once you get a full set of upper or lower overdentures, you'll never have tooth problems again if you take care of them. To see if you're a good candidate for implant dentures, call Dr. Alex Shalman, an implant specialist in Downtown Manhattan, for a consultation.
What Are Denture Implants?
Denture implants are dental implants for a full arc of teeth, either the upper set or the lower set. Normally, when you think of a dental implant, you may think of a single tooth implant. These more common implants replace a single missing tooth with an artificial one. Denture implants are similar, except they require multiple implants to hold the dentures firmly and permanently in place. A single tooth implant has two parts:
The titanium post. This part is screwed into your jaw bone. It eventually fuses with the bone, acting as the artificial tooth's root. The post actually stimulates your jaw bone, just like a natural tooth's root does.
The crown. You get a permanent prosthetic tooth or dental crown to cap the implant once the post has fused with the bone. The crown acts like a normal tooth.
Love Dr. Alex and all of the friendly and amazing employees at his office. Dr. Alex is thorough, professional and makes going to the dentist a pleasant experience. Highly recommend him!

Carolyn DeMeo
Denture implants use a full dental plate or overdenture instead of a single tooth crown. The custom-fitted implant overdenture is held in place by four to six implanted posts. In Downtown NYC, Dr. Alex Shalman, an implant specialist, practices both family dentistry and cosmetic dentistry. You can be sure your denture implants are both functional and attractive.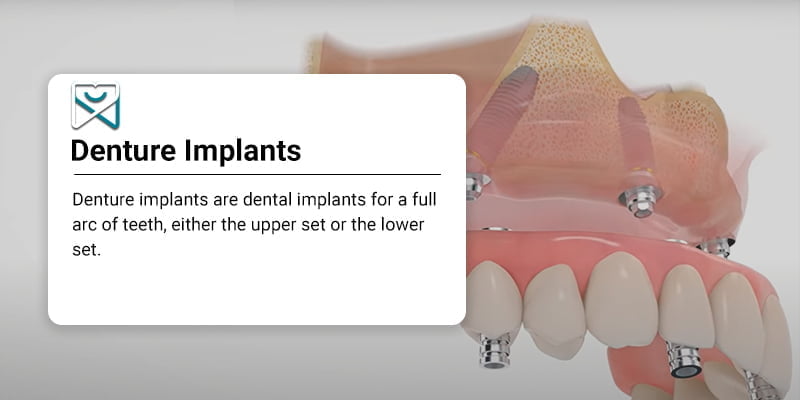 What Causes Missing Teeth?
While your dentist always tries to save your natural teeth, it's not always possible. After you lose a tooth, the space left behind begins to decay. If left for a long period of time, the bone beneath the missing tooth starts to deteriorate in a process called resorption, and the nearby teeth may start to move into the gap. You can lose your teeth from accidents, injuries and disease, including:
To qualify for denture implants, you need enough bone material in your jaw. If your bone is insufficient, you need to undergo a bone graft first, and that takes time to heal. Since denture implants include a full arc of teeth, your dentist may have to pull a few remaining teeth to prepare your mouth for the implant.
Why Do I Want a Dental Implant?
There are several advantages to having a permanent multiple-tooth implants, including:
Dental implants for dentures look exactly like real teeth.
Your implants function as well as natural teeth.
Implants preserve your jaw bone.
An implant overdenture is a permanent replacement for missing teeth.
The implant posts are strong enough to anchor the complete overdenture.
You don't need to perform any special maintenance; just brush and floss every day.
Of course, there are some reasons not to get implant dentures, such as:
They're more expensive than traditional dentures.
Implants require an invasive procedure.
You have viable natural teeth left and don't want to lose them.
What's the Implant Procedure?
Implant placement requires several outpatient oral surgeries, with some recovery time in between. Dr. Shalman performs the minor surgery in his Downtown NYC office, and you recover at home. The first surgery, for the implant post, is pretty straightforward and includes:
Cutting your gum open so your dentist can access the jawbone
Drilling deep holes into the bone wherever implants are needed
Screwing the root implants deep into the bone, where your roots would naturally be
You need to heal, to allow your jawbone to fuse to the new implant. This usually takes two to six months. Once fully healed, your jawbone is stronger and ready for the permanent crown or overdentures. In the meantime, your dentist fits you with temporary dentures.
What Happens After Implant Surgery?
Once you have your permanent crown or implant overdenture, it stays in place and functions just like a real set of teeth. While it's possible to get removable implant dentures, most people opt for fixed denture implants. Your permanent dental device is fastened using one of two methods, such as:
The device is securely screwed onto the posts.
The device clips onto a bar that your dentist has fastened in your mouth.
Shalman Dentistry
44 W 10th St #1A
New York, NY 10011
(10th St, between 5th & 6th Avenue)
☎ (212) 658-1093
Get Directions (Map)