Tooth Decay
Tooth decay is difficult to avoid when so much of the American diet is filled with processed food that almost always has added sugars. But regular check-ups and bi-annual teeth cleanings can keep it at bay and prevent tooth damage. The only way to cure tooth decay is to stop it from worsening with expert care. Visit a boutique family dental practice in Downtown NYC operated by Dr. Alex Shalman. His tooth decay treatment not only stops further damage, but also assures that you look as good as you feel. Call for an appointment today.
What Is Tooth Decay?
Tooth decay is a dental condition that destroys the hard outer enamel layer of a tooth. Tooth decay usually develops over time, as acid from leftover food particles eats into the top enamel layer. If not treated early, it causes long-term dental health complications. Tooth decay typically follows a pattern that includes:
Demineralization. This occurs due to acid damage on a specific spot on the tooth. You may notice it as a whiter, spotted appearance in its early stages.
Enamel decay. As the enamel breaks down, the whitened demineralized spot turns brown.
Dentin decay. Below the enamel layer is the dentin, which contains tubes holding the nerve roots. After the damage to the enamel, the dentin also starts to decay.
Pulp damage. The innermost part of the tooth is the pulp chamber, which contains nerve roots, tissues and blood vessels. Damage to this layer causes tooth pain, swelling, and sensitivity.
Infection. Bacteria can attack the exposed dental tissue, causing tooth infection — also called an abscess.
Fantastic experience every time I come to the office! Lovely staff, never have to wait, & Dr.Shalman is very thorough and simply the best.

Mariesa Streett
Regular check-ups and dental cleanings at Dr. Alex Shalman's boutique dental practice prevent the gradual damage of tooth decay. At his Downtown Manhattan dental office, you get exceptional dental care at a state-of-the-art facility equipped with the latest technology. And Dr. Shalman caters not only to your oral health, but also to your appearance through exceptional cosmetic dentistry services.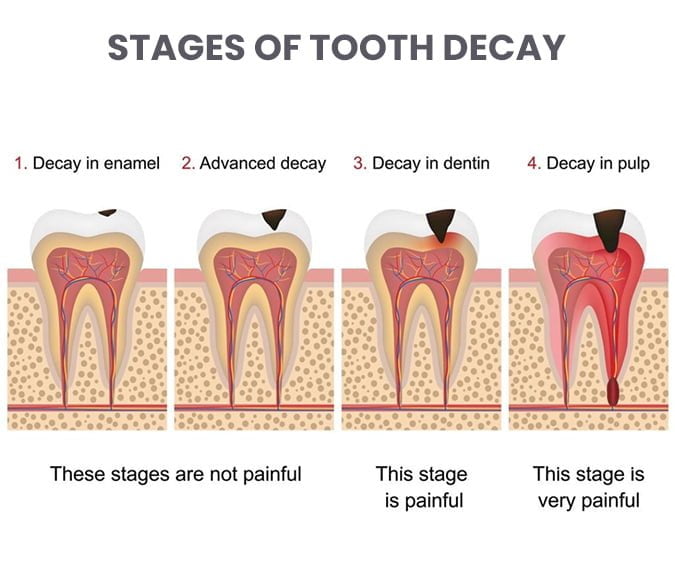 What Causes Tooth Decay?
A combination of factors contributes to tooth decay. The main causes of this common dental problem include:
Poor oral hygiene. Failure to brush and floss daily allows bacteria to thrive in your mouth. These organisms produce acids from the food particles and form tooth plaque, which can only be removed through professional cleanings. The acid in the plaque damages the enamel layer of your teeth.
Unhealthy diet. Eating carbohydrates and foods rich in sugar increases the risk of acid in your mouth. These foods also stick to your teeth, increasing the risk of developing plaque.
Dry mouth. Saliva washes away plaque to prevent any action by the bacteria.
Heredity. The tendency to develop cavities from tooth decay runs in families as a result of genes and learned family practices.
There is no cure for tooth decay once it's started. You can only stop it in its development with professional tooth decay treatment and take steps to prevent further decay.
What Are the Symptoms of Tooth Decay?
Unlike other dental issues, tooth decay isn't always easy to identify when it first starts. If you don't visit your NYC dentist every six months, you may not even realize it's begun until it's too late and you need emergency pain relief. Signs that you may be developing tooth decay include:
Sharp pain that ranges from mild to severe when eating, mostly likely due to exposed nerve roots
Persistent toothache, especially at night
Radiant pain from a tooth to your jaw, ears and head
Increased teeth sensitivity
Bad breath
Noticeable physical cavities
Brown or black staining on a tooth's surface
Dr. Shalman assesses the extent of damage to determine the most effective treatment for your tooth cavity. The latest diagnostic technology helps map the actual damage, which boosts the efficacy of whatever dental procedure your dentist selects.
What's the Best Tooth Decay Treatment?
Your dentist recommends tooth decay treatment depending on the severity of the problem. Treatments may include:
Fluoride treatment in the early stages
Dental fillings, using composite resin that matches the color of your other teeth
A root canal, followed by a dental crown when the decay has spread to and infected the deep roots of a tooth
Tooth extraction when there isn't enough of the tooth left to save or the decay has progressed too far
No two cases of tooth decay are similar. Your dentist considers the extent of damage, tooth location and your age to determine how to cure tooth decay.
How Can I Prevent Tooth Decay?
Tooth decay can affect your life due to the excruciating pain at advanced stages. Regular visits to your dentist are the best preventive steps you can take to get an early diagnosis and prevent further damage from extending to your gums and jaw bone. Other simple steps to prevent tooth decay include:
Maintaining good oral hygiene. Brush twice a day with fluoride toothpaste and floss once a day.
Improving eating habits. Avoid sugary foods and limit snacking.
Using mouth wash. This is especially important if you're prone to cavities.
Shalman Dentistry
44 W 10th St #1A
New York, NY 10011
(10th St, between 5th & 6th Avenue)
☎ (212) 658-1093
Get Directions (Map)
Back to top