Tooth Infection
Once you develop an infection in your tooth, it becomes an emergency. Seek treatment as soon as possible. A tooth infection, called an abscess, can lead to host of complications that may affect your overall health if left untreated. When you take your dental issues to Dr. Alex Shalman at his Downtown NYC boutique dental practice, you're given the time and attention you need to fully understand your condition, the risks involved and the possible treatment options. And since Dr. Shalman is a top cosmetic dentist as well, he ensures that your appearance is successfully restored, along with any other treatments provided. Call today for an appointment to get out of pain.
How Does a Tooth Infection Occur?
When bacteria get to the root of a tooth, there's a high risk that it can lead to a tooth infection, also referred to as an abscessed tooth. The internal structure of a tooth is complex and contains pulp, nerve roots and other soft tissue. Infections occur when the tooth surface or the gum suffers damage, allowing bacteria into the tooth's sensitive internal area. There are three main types of tooth infections:
Periapical abscess. This is an infection at the tip of a tooth's root due to untreated dental cavity.
Gingival abscess. This type of infection occurs when a foreign body gets stuck in your gums and isn't cleaned away.
Periodontal abscess. This is an infection in the gums at the side of the tooth root.
I have always been in the dental industry, and what I mainly cared about was having healthy teeth and gums. I always ate well, exercised and took great care of myself, and when I saw Dr. Shalman's other work it occurred to me that it was the right time to have my own Smile Makeover. Now I love my smile and get compliments on it all the time!

Ella Kotler
The infection originates from this inner pulp chamber in the root of the tooth. The hypersensitivity of the pulp nerve roots in a tooth makes infections very painful. If you're experiencing severe tooth pain, it's a good reason to visit your dentist immediately for emergency care. It can eventually spread to the jaw bone. Failure to treat an infection can lead to the loss of your tooth or even life-threatening conditions. Dr. Alex Shalman, a renowned dentist in Lower Manhattan, runs a boutique dental practice where he makes time to treat your tooth infection or any other painful dental condition as soon as possible. A fifth-generation dentist, he focuses on pain-relieving procedures.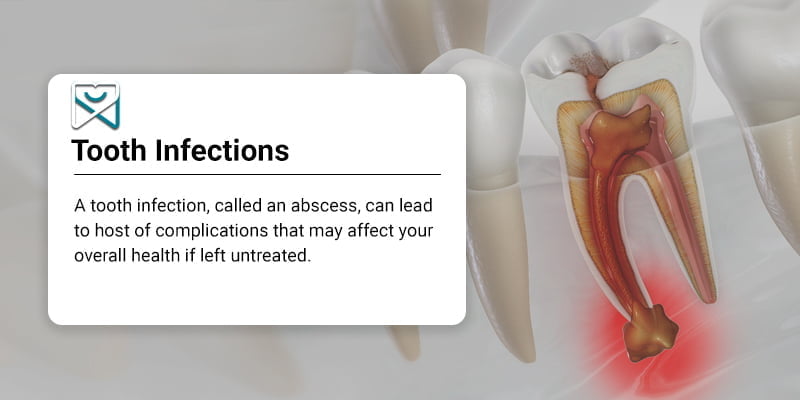 What Causes Tooth Infections?
Bacteria invading a damaged tooth or diseased gums are the primary causes of a tooth infection. Other main causes include:
You may be more liable to get a tooth infection than other people. The risk factors for a tooth abscess include:
Poor dental hygiene over a long period of time
Bruxism, which is clenching or grinding your teeth
A diet that's high in sugar content
The presence of previous dental work
What Are the Symptoms of a Root Canal Infection?
When your dentist does a root canal procedure, the inside canal of your tooth gets thoroughly cleaned out and disinfected. If some bacteria remain, it can cause an infection that affects not just the tooth, but your gums, bone and neighboring teeth. The most apparent symptom of an infected tooth is excruciating pain, although the level varies from one person to another. Tooth infection pain also manifests as:
Pain when chewing or biting
Pain radiating to your ear or neck
Sensitivity when eating or drinking cold or hot things
Tenderness in your gums
Throbbing tooth pain
Pain that worsens when you lie down
Cheek swelling and pain
Tender and swollen lymph nodes in your neck
Other side effects of a root canal infection include:
Persistent bad breath
Fever
An unpleasant metallic taste in your mouth
Swollen and red gums
If you notice any of these symptoms, see your dentist as soon as possible. Through early diagnosis, Dr. Shalman can treat the affected tooth to avoid further complications. Treatment not only deals with the pain, but offers a permanent solution to the underlying cause of the infection.
What's the Treatment for a Tooth Infection?
Treatments for an infected tooth depend on the extent of the damage. An early diagnosis helps to avert complications, such as osteomyelitis, cavernous sinus thrombosis or sepsis. Your dentist carries out diagnostic exams and tests to determine the extent of infection and the underlying cause. Treatment options include:
A root canal procedure
Apicoectomy, also called a root-end resection
Removing a foreign object in your gums
Antibiotics
Pus drainage
Treatment of sepsis
Pain medication
Surgery
How Can I Prevent Tooth Infection?
The best prevention of tooth infections is to visit your Lower Manhattan dentist at least twice a year for regular check-ups and early detection of cavities and gum disease. Additionally, lifestyle changes proven to help prevent tooth infections include:
Practicing proper dental hygiene, which means brushing twice a day with fluoride toothpaste
Replacing your toothbrush every three months
Flossing daily
Limiting sugary content in your diet
Drinking fluoridated water
A tooth infection can alter your life by causing debilitating pain. It's impossible to work or attend school with such pain. There's also a risk of developing other life-threatening conditions originating from the infected tooth.
Shalman Dentistry
44 W 10th St #1A
New York, NY 10011
(10th St, between 5th & 6th Avenue)
☎ (212) 658-1093
Get Directions (Map)
Back to top