Smile Makeover
Whether you just want your teeth whitened to improve your smile or you need major work to achieve a smile you can be proud of, Dr. Alex Shalman in Downtown NYC has solutions. At his boutique dentistry office, he takes the time to listen to your concerns. He takes your personal goals and budget into consideration before making any recommendations. His vast expertise in cosmetic and routine dentistry makes him perfectly suited to help you reach your goals. Your smile makeover cost is an investment that pays off in so many ways that you'll wonder what took you so long to call the best dentist in town.
What Is a Smile Makeover?
A smile makeover is a complete process that addresses structural and cosmetic dental issues to improve your facial appearance and your smile. Whether you had a perfect smile as a child or were cursed with crooked teeth, your smile changes over time. After years of use, misuse, injury, or decay, your teeth suffer some level of physical damage with age, and that affects the quality of your smile. Read more about why you should consider a smile makeover
Fantastic experience every time I come to the office! Lovely staff, never have to wait, & Dr.Shalman is very thorough and simply the best.

Mariesa Streett
When you're ready to give yourself the gift of a more attractive smile, it's time to see the best dentist in Downtown NYC. Dr. Alex Shalman offers his vast expertise in a boutique dental practice in Lower Manhattan. He built his reputation as an "Artist of the Smile." The family dentist provides exceptional routine care, as well as the most advanced cosmetic services to all the adults in your family at his comfortable, modern office environment.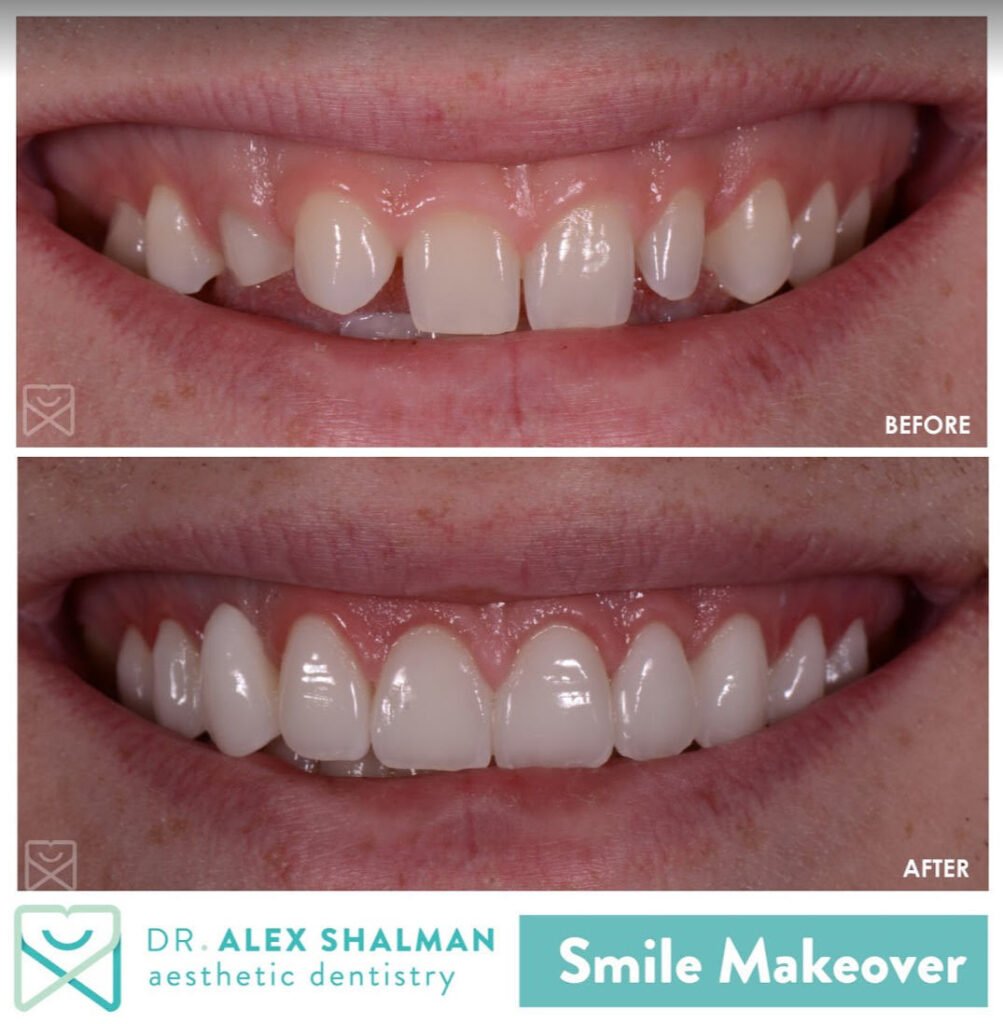 Who Needs a Smile Makeover?
Everyone deserves a dazzling smile. If your teeth have become dull with age or you have a number of dental issues keeping you from freely smiling with confidence, you can take action. Certainly, preventive care like regular checkups and professional cleaning help prevent many of the issues affecting your smile. Issues that may require more intensive procedures to achieve a complete smile makeover may include:
Stained or discolored teeth
Teeth misalignment
Misshapen teeth
Gaps between teeth
Disproportionately sized teeth
Eroded, misshapen or crooked teeth
A gummy smile
An uneven gumline
Fractured or broken teeth
Facial injuries that affect your teeth
However extensive the damage to your face or teeth, your dentist can restore your smile and make it even brighter. At his boutique Manhattan dental practice, Dr. Shalman leverages cutting-edge technology to guarantee your comfort during his dental evaluation and treatment. As both a family and cosmetic dentist, he understands that the best smiles are also the healthiest.
What Are the Procedures Used for a Smile Makeover?
Every smile makeover treatment differs because your dental problems aren't like many others'. Dr. Shalman first evaluates the health of your teeth, gums and jaw before recommending the most effective procedures to restore your smile. Common smile makeover procedures include:
Various factors go into the choice of which dental procedures to recommend for your smile makeover. Your experienced smile makeover dentist bases his suggestions on factors that include:
The type of dental problem you're experiencing
Your facial shape
The color of your teeth
Your teeth shape and length
The condition of your gum and jaw bone
What Are the Benefits of a Smile Makeover?
A smile is one of the strongest forms of visual communication. When your smile doesn't convey your personality appropriately, you may have problems interacting with people. Whether you hide your flawed smile or even stop smiling due to embarrassment, you can't relate your true feelings effectively. A smile makeover achieves more than a more appealing physical appearance; it also can:
Boost your self-esteem
Increase your self-confidence when in public
Make you seem more approachable
Help you attract positive attention
Produce a positive first impression
Enhance your mood
Reduce stress
Take years off your appearance
Dr. Shalman strives to create and maintain harmony and balance with the dental treatments he chooses, in addition to ensuring continued dental health. Your treatment plan may involve one or more restorative or cosmetic procedures, depending on the desired results.
How Much Does a Smile Makeover Cost?
Your New York City dentist goes over all your options and smile makeover costs associated with each phase of the process. Typically, procedures are spaced out over time, which reduces stress on your mouth and spreads out your financial responsibility. Your total smile makeover cost depends on several factors, including:
The extent of the damage to your teeth
The number of procedures in your smile makeover plan
The technology required, as more advanced procedures, such as dental implants, cost more
The need for anesthesia, since a smile makeover procedure may involve some general dentistry treatment that requires sedation, increasing the total cost of your treatment
Your desired goals
Shalman Dentistry
44 W 10th St #1A
New York, NY 10011
(10th St, between 5th & 6th Avenue)
☎ (212) 658-1093
Get Directions (Map)
DISCLAIMER: PLEASE READ CAREFULLY

This website's purpose is to provide general dentistry information. None of the details given is intended to be taken as authoritative dental advice. It's important to speak with a dentist in NYC about your problems, as it may be a symptom of a serious underline condition. For an accurate diagnosis and treatment plan, a detailed oral examination should always be performed. Make an appointment with your nearest healthcare provider or call our Lower Manhattan practice to set up a consultation.