Why Should I Consider a Smile Makeover? What Is It?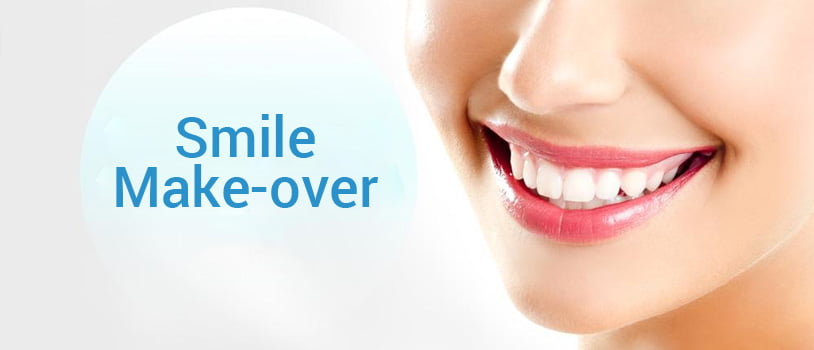 Are you unhappy with your smile? Do you have teeth that are missing or perhaps uncomfortable or painful? A smile makeover might be the solution.
Being unhappy with your smile is a very common problem and especially in a society that values appearances highly. When you have sparkling white and evenly aligned teeth, it's seen as a sign of youthfulness and shows others you care about your appearance and health.
However, it's extremely rare for people to have beautifully white straight teeth naturally, and many will benefit from a little help using cosmetic dentistry. It's almost certain that celebrities who smile that you admire have spent some time with their cosmetic dentist. While cosmetic dental treatments can improve the appearance of your teeth, many procedures can help improve and protect your dental health, giving you the best and healthiest smile.
A smile makeover can be a straightforward or more complex process, depending on how much you wish to change the appearance of your teeth and your current dental health. Visit Shalman Dentistry for a FREE Smile Makeover cost evaluation.
What Treatments May Be Used for a Straightforward Smile Makeover?
If your teeth are generally healthy and in reasonable condition, your smile makeover should be a relatively quick process.
There are several treatments that your cosmetic dentist Dr. Shalman may recommend, including:
Teeth whitening
Porcelain veneers
Crowns
Bridges
After assessing your dental health and discussing your aims for treatment, your cosmetic dentist will discuss which procedures are most suitable, the time needed, and the costs. You may be able to complete your smile makeover in a matter of just a few weeks.
What Treatments Are Used for a More Complex Smile Makeover?
If you have some dental issues and are missing teeth or know you have broken or chipped teeth, your smile makeover will be more complicated and lengthier, and you may need full mouth reconstruction. More complicated smile makeovers use various treatments to help restore dental health and replace any missing teeth. Treatment can also help rebalance a bite out of alignment and generally ensure that your oral structures, including your jaw joints, gum tissues, muscles, and jawbone, are healthy and work together harmoniously.
Your cosmetic dentist Dr. Shalman will evaluate your dental health to determine all dental health problems that need correcting. It is essential to make sure your mouth is healthy before carrying out any cosmetic dental work to ensure the results last longer.
Problems that might need treatment include:
Whenever possible, Dr. Shalman will always try to save your natural teeth, so you might need root canal therapy if you have a severe tooth infection.
A more comprehensive smile makeover or full mouth reconstruction can also address issues like teeth grinding and clenching (bruxism). Bruxism can cause unpleasant side effects such as a painful jaw, worn teeth, and even chronic headaches and facial pain.
Dr. Shalman will check your bite, and if necessary, will take diagnostic x-rays of your teeth and jaws. These allow him to assess the health of your natural teeth and to see if there are any signs of infection or tooth decay that need treatment. He will also look at your gums, checking for signs of gum disease, a serious infection that can cause tooth loss or affect your general health.
Once Dr. Shalman has all this information, he can devise a suitable treatment plan to restore dental health and rebuild your smile. He may collaborate with other dental specialists such as:
If your teeth are out of alignment, you might need orthodontic treatment to bring them back into line and correct any bite problems. Modern braces such as Invisalign are very discreet, and straightening your teeth with orthodontics is a healthy and relatively non-invasive way to improve your smile.
Although this type of smile makeover is far more complicated and will take longer and cost more, it's well worth the effort. Once complete, you should have a healthy, attractive smile that, with the proper care, will last you for years to come. What's even better is that having a healthy mouth will protect your overall health, so it's an excellent investment.
Deciding on a Smile Design
Whether you want a straight smile makeover or something more complicated, Dr. Shalman will want to consider the design of your smile with you.
When designing a new smile, he considers numerous factors such as:
Your age
Lifestyle
Personality
The type of appearance you'd like to achieve
For example, some people want to look more youthful. In contrast, others want to look sophisticated, or perhaps you'd prefer a combination of both.
One thing that often concerns people is how to tell if the design is right for them. The cost of a smile makeover can get pretty expensive, so you want to make sure you get the right results. One way dentists can do this is with digital smile design.
Designing Your Smile Digitally
Digital smile design uses sophisticated software to manipulate facial photographs and scans of your teeth.
Using your facial photographs
Dr. Shalman can design the shape of your teeth, the size, and the color, overlaying the design with your facial photographs. You can then preview these images and have your say. It's an excellent way to get a good idea of how your new smile will appear and become involved with planning the design.
Using diagnostic mockups
Another way that Dr. Shalman can help you preview your new smile is by making a diagnostic mockup, using actual models of your teeth, and adapting these with wax to show how your new teeth will look.
Often these designs are used to create temporary teeth that you can wear while your permanent teeth are fabricated. Trialing your new smile allows others to give their input into the appearance and for you to see if you are entirely happy with the shape or length of the teeth or if you'd like some changes before your permanent teeth are made. When your permanent teeth are fitted, you can be sure you'll get the results you desire.
For more information about the smile makeover visit or call Shalman Dentistry: (212) 658-1093. We are located in Downtown Manhattan, on West 10th Street, between 5th and 6Ave.
Shalman Dentistry
44 W 10th St #1A
New York, NY 10011
(10th St, between 5th & 6th Avenue)
☎ (212) 658-1093
Get Directions (Map)
DISCLAIMER: PLEASE READ CAREFULLY

This website's purpose is to provide general dentistry information. None of the details given is intended to be taken as authoritative dental advice. It's important to speak with a dentist in NYC about your problems, as it may be a symptom of a serious underline condition. For an accurate diagnosis and treatment plan, a detailed oral examination should always be performed. Make an appointment with your nearest healthcare provider or call our Lower Manhattan practice to set up a consultation.