Who Can Benefit from Dental Implants?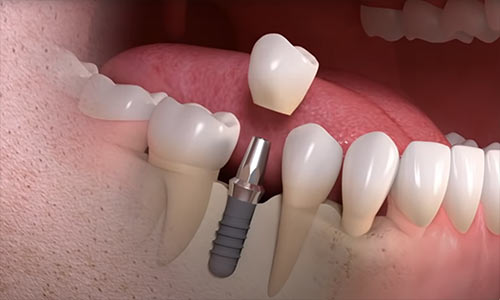 Are you fed up with that gap in your smile? Have you one or more teeth that are broken down, severely infected, and which are generally failing? Losing teeth, for whatever reason, is always unpleasant and is a situation your dentist Dr. Shalman understands very clearly.
When you lose teeth or need teeth removal, Dr. Shalman is here to help you and can explain the possible options to replace them, discussing which might suit you the best. The most advanced tooth loss solution is dental implants, as implant teeth can restore your smile seamlessly and comfortably, giving you teeth that look great and which function correctly.
Why Have Dental Implants?
Dental implants are no longer a new invention, as they have been widely used for several decades now. Over this time, implants have been extensively studied, and the techniques and materials used in implant surgery are continually improved and refined.
The latest procedures are custom-designed to provide optimal results whether you are missing one, several, or multiple missing teeth. The techniques used to plan and place dental implants ensure this treatment has a success rate of 95% or more.
Once you have your dental implants, they should look and feel like natural teeth, providing a biting strength similar to real teeth, and you will love having teeth that feel strong, secure, and stable.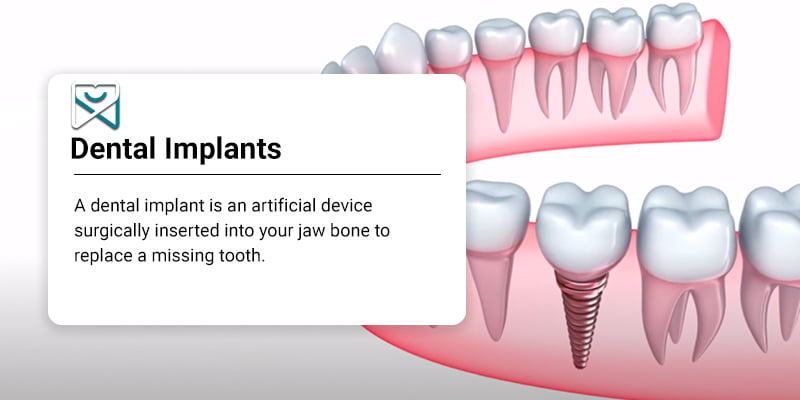 Who Should Consider Dental Implants?
Some people still have the misconception that dental implants are only for the few, when in fact implants are suitable for the many. Most people can enjoy and benefit from this treatment, and age isn't generally a factor.
You must be over age 18, and your teeth and jaws must have finished growing and developing. It certainly doesn't matter if you are older, and some people will have dental implant treatment in their 90s successfully.
However, one important factor is that you must have good overall health and have reasonable dental health.
Why Do I Need to Be Generally Healthy for Dental Implants?
The technique to place dental implants involves a short surgical procedure. Afterward, the implants must fuse with the bone around them, and it must also heal.
If you have health problems or existing dental problems, healing is less likely to occur successfully or could be much slower, greatly increasing the risk of implant failure.
If you do have poor dental health, your dental implant dentist Dr. Alex Shalman can help treat these problems before you have implant surgery.
Are you smoking? Smokers should be prepared to quit because smoking greatly influences the risk of implant failure, making it much harder for your gums and jawbone to heal after implant surgery.
Do you have diabetes? If you have health problems such as diabetes, you may still be suitable for dental implant surgery. It all depends on how well you control your diabetes as your dental implant dentist can discuss your health care.
Taking Personal Responsibility for Keeping Your Implants Healthy
Another thing to consider is how you will care for your dental implants after you receive them.
Without proper care, your dental implants are more likely to fail because the gum and bone around them can easily become infected with a condition similar to gum disease called peri-implantitis. You must follow the clear instructions provided by a dental implant dentist on how to keep your dental implants clean and free from infection.
Dental implants aren't difficult to look after, but you must be motivated enough to maintain good oral hygiene every day. Also, it would be enormously beneficial if you visit your dentist regularly for checkups and professional dental cleanings. Regular checkups allow your implant dentist to assess the health of your dental implants thoroughly. If there are any signs of problems, these are more easily treatable when detected quickly.
Discovering If Dental Implants Are the Right Solution
If you think dental implants could be the right solution for your tooth loss, you need to make an appointment with a dental implant dentist. Spend a bit of time choosing your implant dentist carefully, making sure they have the right qualifications and experience to plan and fit your dental implants.
It can be better to choose a well-equipped or a larger practice with multiple dental specialists, especially if you require more complex treatment and possibly need help to restore dental health before implant surgery. Shalman dentistry has high-tech diagnostic and planning equipment for dental implants such as a cone beam CT scanner.
What to Expect When You See Your Dental Implant Dentist?
Initially, when you see your implant dentist Dr. Shalman, he can discuss the treatment in greater detail after first conducting a dental examination. During an exam, he will review your medical history with you and ask about your aims and desires for this treatment. Next, he will go over the most suitable options for treatment, explaining each one in detail so that by the time you leave, you know exactly how a procedure could help you.
It's critical to make sure you understand everything he tells you, so don't be afraid to ask questions.
What If I Am Scared of Having Implant Surgery?
If you are a little scared or apprehensive about dental implant surgery, you are not alone.
Many people experience dental fear or anxiety at the thought of treatment, but don't let this put you off. Most dentists including Dr. Shalman will offer a range of dental sedation treatments designed to help you relax so you can receive your implants comfortably and without fear.
Don't be afraid to express your fears to Dr. Shalman as he can help you. The Shalman Dentistry is a custom-designed dental office that creates a warm, relaxing space that can be especially soothing for more anxious patients.
Will I Be Left Without Teeth During Implant Surgery?
Not surprisingly, a major fear of most people is being left without teeth during dental implant treatment because it is a procedure that can take a while to complete.
You can rest assured Dr. Shalman will not leave you without your smile or the ability to eat during treatment. He can provide you with temporary teeth to use, or sometimes he can fit your dental implants with new teeth soon after surgery using a technique called immediate loading. The procedures used today are so sophisticated that they can restore your teeth more quickly than ever before, with minimal discomfort and disruption to everyday life.
For more information about dental implant solutions at Shalman Dentistry, visit our Downtown Manhattan dental center or call us: (212) 658-1093
Shalman Dentistry
44 W 10th St #1A
New York, NY 10011
(10th St, between 5th & 6th Avenue)
☎ (212) 658-1093
Get Directions (Map)
DISCLAIMER: PLEASE READ CAREFULLY

This website's purpose is to provide general dentistry information. None of the details given is intended to be taken as authoritative dental advice. It's important to speak with a dentist in NYC about your problems, as it may be a symptom of a serious underline condition. For an accurate diagnosis and treatment plan, a detailed oral examination should always be performed. Make an appointment with your nearest healthcare provider or call our Lower Manhattan practice to set up a consultation.