Invisalign Process
Sometimes, when you're seeking a smile makeover, you need to go through a number of different processes to get the desired results. After you go through the steps to ensure your teeth and gums are healthy, you may need your teeth straightened. One of the most popular and effective means of teeth straightening is Invisalign aligners. The Invisalign process straightens your teeth to help you achieve your ideal smile. When you rely on a trained expert in the Invisalign process, you're increasing your odds of reaching your goals of a perfect smile. In Downtown NYC, Dr. Alex Shalman is the go-to expert for Invisalign. Call his boutique dental practice to learn if the Invisalign process is a match for your needs.
What Is the Invisalign Process?
Straightening your teeth with Invisalign makes your smile more attractive. And it's a painless, affordable treatment. Your experienced Invisalign dentist guides you through the Invisalign process every step of the way. Treatment with Invisalign involves three easy steps to put you on your way to a charming new smile. If you follow these steps rigorously, you'll have the straight teeth you've always wanted:
Meet with your dentist in Downtown NYC
Wear your aligners as instructed for the required length of time
Maintain your results by following a regimen designed specifically for you by an Invisalign expert
I have always been in the dental industry, and what I mainly cared about was having healthy teeth and gums. I always ate well, exercised and took great care of myself, and when I saw Dr. Shalman's other work it occurred to me that it was the right time to have my own Smile Makeover. Now I love my smile and get compliments on it all the time!

Ella Kotler
While any dentist who's been specially trained can treat you with Invisalign, you get the best results from one who's been acknowledged by Invisalign. Through his boutique practice in Downtown Manhattan, Dr. Alex Shalman is one of their Silver Tier providers. When you choose him for your Invisalign treatment, you get an expert family dentist who treat your entire family. Not only does he offer complete general dentistry services, but he also specializes in cosmetic dentistry and orthodontics.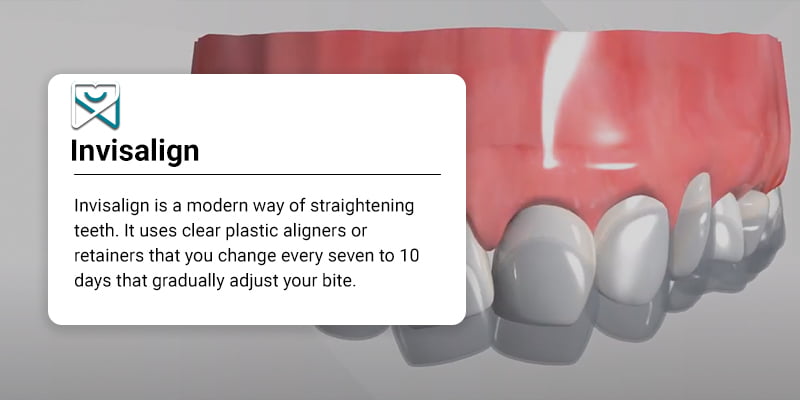 What Can I Expect from My First Consultation with Dr. Shalman?
During your initial consultation, Dr. Shalman determines if Invisalign is right for you. He considers your age, health and type of tooth alignment problem. If he determines you're a good candidate, he uses a digital scanner to produce a quick, pain-free 3D scan of your mouth. He uses the scan to create your custom treatment plan. The alignment problems that are conducive to the Invisalign process include:
Overbite
Underbite
Crossbite
Gapped teeth
Open bite
Crooked teeth
Crowded teeth
Generally straight teeth
Mix of small baby teeth and permanent teeth
While Invisalign is an excellent solution for many people, only an Invisalign-trained dentist can tell you for sure. Dr. Shalman reviews your dental history and 3D scan before deciding on the extent of the treatment you need. Once you both agree to the Invisalign process, he takes you to the next step.
What's the Longest Part of the Invisalign Process?
The Invisalign process requires that you wear a series of aligners, and each one gradually moves your teeth closer to their ideal position. Once your Invisalign aligners have been made to fit your mouth, you return to Dr. Shalman's office to try the first one on. He examines your teeth to ensure that they fit properly. This step ensures your comfort and the aligner's effectiveness throughout the entire process. After that, you wear the aligners for 20 to 22 hours a day, every day. You can take them out only to eat and brush. Before putting the aligners back in your mouth, you must:
Brush your teeth thoroughly
Floss between your teeth
Clean the aligners with soap and water
How Often Do I Change the Aligners?
If you wear the aligners properly, you'll swap to a new set every seven to 14 days, depending on what Dr. Shalman tells you. You should notice some change within a couple weeks. You visit Dr. Shalman's office about every six to eight weeks, so he can evaluate your progress and give you your next sets of aligners. Your dentist makes sure you:
Remain healthy and strong
Keep wearing the aligners
Adjust to the design of each aligner
Your aligners are transparent and nearly invisible when you wear them. So be sure to wear them as much as possible. They can't align your teeth if you don't wear them.
What Happens after Your Teeth Are Straight?
Once your teeth have shifted into proper position, you're still not done with the Invisalign process because your teeth can still shift back to their old position. So when you're done with the aligners, Dr. Shalman fits your teeth for a Vivera retainer. Vivera retainers have several characteristics that make them an excellent choice, including:
Strength. Vivera's retainer material is 30 percent stronger and much more durable than the competition.
Custom-fit. Since they're fit for your mouth, you can enjoy a comfortable fit, even while you sleep.
Doctor approved. Vivera receives higher satisfaction ratings from doctors who prescribe them.
The Invisalign process has numerous benefits, but you need a qualified and trained dentist to guide you through it. When you choose Dr. Shalman for your Invisalign process, he's there for you from beginning to end. With a convenient location in Lower Manhattan, he serves the West Village, East Village and Chelsea neighborhoods.
Shalman Dentistry
44 W 10th St #1A
New York, NY 10011
(10th St, between 5th & 6th Avenue)
☎ (212) 658-1093
Get Directions (Map)