Invisalign Candidates
Does straightening your teeth without braces sound too good to be true? It isn't, as long as you qualify. Invisalign retainers can address most minor teeth misalignments, but they're not a magic pill that solves every problem. Talk to a knowledgeable family and cosmetic dentist like Dr. Alex Shalman at his boutique dentistry practice in Downtown NYC to see if Invisalign is right for you. If it is, you'll be able to wear clear, nearly invisible aligners for less time than traditional braces take. Call today to see if you're a good candidate.
What Is Invisalign?
Invisalign is a modern way of straightening teeth. It uses clear plastic aligners or retainers that you change every seven to 10 days that gradually adjust your bite. With this system, your teeth are straightened without significant pain, over a dentist-prescribed period of time. To get started, you have to visit a family dentist who offers orthodontic services like Dr. Alex Shalman.
Love Dr. Alex and all of the friendly and amazing employees at his office. Dr. Alex is thorough, professional and makes going to the dentist a pleasant experience. Highly recommend him!

Carolyn DeMeo
At Dr. Shalman's boutique dentistry practice in Lower Manhattan, your misaligned teeth are examined. If you qualify, you're prepped for the aligners and then monitored during your course of Invisalign treatment. Because they're nearly invisible while you wear them, the Invisalign system offers many benefits, especially when compared to traditional braces.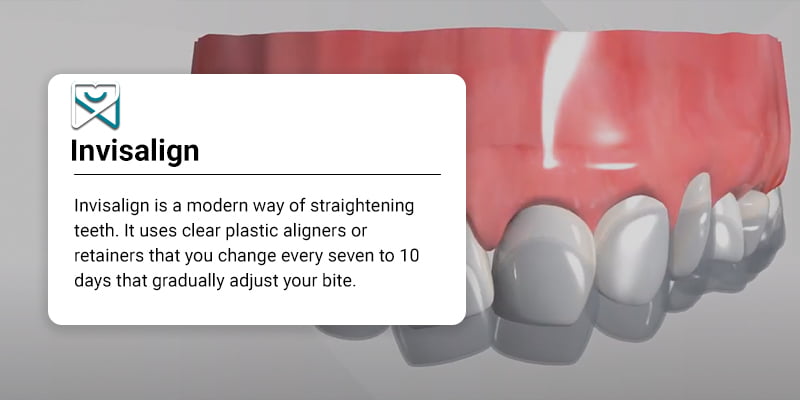 How Do I Know If I'm a Good Candidate for Invisalign?
The ideal Invisalign candidates can be any age, as long as they're old enough to wear the aligners responsibly. The best candidates can be looking to correct a range of tooth alignment issues, but not every problem is suitable for the Invisalign process. Since Invisalign can focus on a small grouping of teeth at time, not just individual teeth, minor issues can be addressed with precision and ease. More complex bite problems may take more time to fix, and some problems require traditional braces. In particular, rotated teeth tend to be more difficult to align with the Invisalign system. Severe overbites or underbites can also be hard to correct all the time. The best Invisalign candidates have alignment issues that include:
Gaps of almost any size between your teeth
Slight overbites
Minor underbites
Crossbites
An uneven bite
Overlapping in the front teeth
Talk to your family dentist to discover if you're a good candidate for Invisalign. If you're unsure, refer to the frequently asked questions about Invisalign. Invisalign offers attachments that your dentist can connect to assist in getting wayward teeth in line. As a boutique dentist, Dr. Shalman can guide you to a successful result, but it's up to you to wear the aligners responsibly, up to 22 hours a day.
How Do I Get Fitted with Invisalign Aligners?
Once it's determined that you're a good candidate and you agree to the cost, your dentist takes scans and x-rays of your mouth. The Invisalign software produces 3D images of your before and after, although this is no guarantee of results. Then you follow a series of steps to get fitted for your aligners. These steps include:
Reviewing the alignment issues with your teeth and discussing your goals with your dentist
Listening to Dr. Shalman explain the process and determine the approximate length of time you need to wear the aligners
Letting the Invisalign system create the first sets of aligners that you'll wear
Figuring out a schedule of office visits for you to receive new aligners, although you don't have to visit as often as if you had traditional braces
Each aligner tray introduces a subtle change to your teeth, gently pushing them into place. The Invisalign process, on average, takes four months less than it takes traditional braces to straighten your teeth. Whether you're an adult or a teenager, you may find the discreet, clear Invisalign trays preferable to traditional metal braces.
What if I Have Complicated Bite Problems?
Not everyone is a candidate for Invisalign, especially if you have a severe overbite or underbite. Invisalign is meant to gently guide slightly crooked or overlapped teeth into place. The process may not be able to handle more complex bite issues. The scans and x-rays you get at the dentist's office help Dr. Shalman decide whether Invisalign is right for you and your smile. You may need to have some preliminary work done to get your teeth to a place that Invisalign can do the rest of the work. Your dentist determines what prep to do to your mouth before you get your Invisalign aligners. These preliminary procedures may include:
Shalman Dentistry
44 W 10th St #1A
New York, NY 10011
(10th St, between 5th & 6th Avenue)
☎ (212) 658-1093
Get Directions (Map)
DISCLAIMER: PLEASE READ CAREFULLY

This website's purpose is to provide general dentistry information. None of the details given is intended to be taken as authoritative dental advice. It's important to speak with a dentist in NYC about your problems, as it may be a symptom of a serious underline condition. For an accurate diagnosis and treatment plan, a detailed oral examination should always be performed. Make an appointment with your nearest healthcare provider or call our Lower Manhattan practice to set up a consultation.