Invisalign vs Traditional Braces
Metal braces are usually the first image that comes to mind when you think about orthodontics. But traditional braces now have competition in the form of Invisalign. Invisalign straightens teeth with braces, using clear plastic aligner trays that are nearly invisible. In some cases, they even work faster than traditional braces. If you can't decide between Invisalign vs. traditional braces, call Dr. Alex Shalman at his boutique dentistry practice in Downtown Manhattan.
Invisalign vs. Traditional Braces, Which Is Better?
When you want to straighten your teeth, it's common to compare Invisalign vs. traditional braces. While both methods are effective for straightening teeth, the Invisalign process provides more benefits, including:
Appearance.
This is the best Invisalign vs. traditional braces argument. Traditional braces use metal brackets and wires under pressure to straighten your teeth, while Invisalign uses clear plastic aligner trays that are nearly invisible.
Comfort.
Metal braces can damage the inside of your mouth. Invisalign aligners are more comfortable to wear, and they don't irritate the soft tissue in your mouth.
Smiling.
Metal braces make smiling a painful experience, especially when you have small teeth. Smile with Invisalign, and no one may suspect anything's different.
Permanent vs. removeable.
Braces are cemented in place. Invisalign aligners are removeable. You're supposed to take them out to eat and brush.
Diet.
Braces limit what you can eat. Peanut butter, apples, corn on the cob are examples of food you can't eat when wearing braces. Since you take the aligners out to eat, you have no limits when wearing Invisalign.
Cleaning.
Braces are difficult to clean thoroughly, allowing food particles to build up. Because Invisalign aligners are removeable, they're easier to clean and make dental hygiene easier too.
Treatment duration.
In some cases, you get faster results with Invisalign than with traditional braces. It depends on the condition and misalignment of your teeth.
I absolutely love going to Shalman Dentistry because it's such a comfortable experience. My teeth are very, very sensitive and Dr. Shalman and his team do everything necessary to make me feel relaxed. The intimacy of this beautiful office, with it's awesome music and friendly staff makes my dental visits feel like I'm amongst friends. I had some wisdom teeth removed over the summer, which I was very nervous about (I had been putting it off for almost a decade!) I was taken care of with the utmost attention and consideration. The procedure and healing process afterwards was a breeze thanks to this team! Much gratitude. Highly, highly recommended for all your dental needs.

Sophie Bolvary
If you're unsure of which method may work best for you, visit Dr. Alex Shalman, who runs a boutique dental practice in Lower Manhattan. He's a congenial family dentist and a specialist in certain cosmetic dentistry and orthodontic procedures. He's a Silver Tier Invisalign provider who can answer your questions about Invisalign.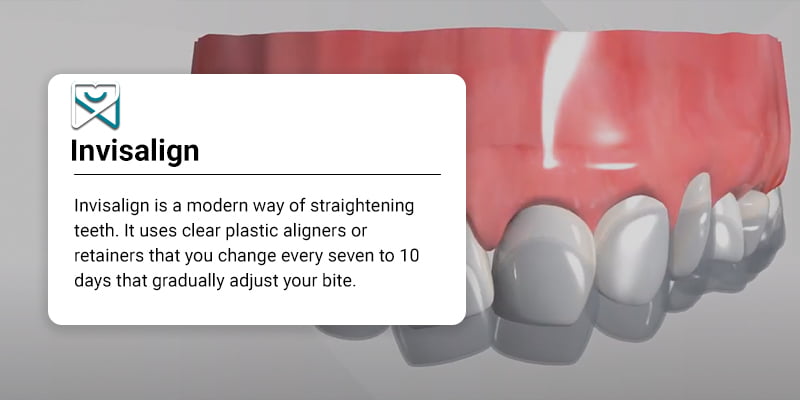 Do Invisalign and Traditional Braces Fix the Same Issues?
One of the important differences when comparing Invisalign vs. traditional braces is the misalignment problems that each addresses. Traditional braces are more effective for severely rotated or tipped teeth. Invisalign works best for more minor misalignment issues. One advantage of Invisalign, however, is that you need fewer trips to the dentist during the process. You wear each aligner for seven to 14 days and then change it out. You visit Dr. Shalman once every six to eight weeks so he can check your progress and provide new aligners. Both Invisalign and traditional braces address misalignment problems, but Invisalign is typically used for problem such as:
Overcrowded teeth. When there isn't enough space in your mouth to fit all your teeth properly, several teeth get pushed around. Ordinarily, your teeth should be one to five millimeters apart.
Wide gaps between teeth. Gaps appear due to unusual teeth growth, but if you have a missing single tooth, the remaining teeth may shift towards the gap. Don't ignore a missing tooth; get a replacement tooth as soon as possible. Your choices include a single tooth implant or a dental bridge.
Overbite. Your dentist identifies this problem when your upper front teeth appear well in front of your lower teeth.
Underbite. With an underbite, your lower teeth are in front of the upper front teeth.
Crossbite. This issue is when your upper teeth bite the inside of your lower teeth. This can occur in the front or on either side of your mouth.
Open bite. This is when the upper and lower front teeth don't meet.
Crooked teeth. This problem usually happens when your mouth can't accommodate all the teeth you have.
Who Should Get Invisalign?
Invisalign candidates need a certain level of maturity to get ideal results. You have to keep the aligners on for 20 to 22 hours per day. Young children aren't good candidates because they can't be responsible enough to wear them consistently. Other things to keep in mind while considering Invisalign vs. traditional braces include:
Traditional braces are less expensive, but you can justify the Invisalign cost because of the benefits. Plus, most dental insurance policies cover a substantial portion of your final bill.
Oral hygiene becomes your number one priority with Invisalign. You must take along a travel kit to brush and floss your teeth when dining out.
Invisalign may cause you to initially slur or mumble as you speak. As you practice, your tongue adapts. If you do any public speaking, get the aligners well before a major speaking event.
While you may not need as many dental appointments as someone with traditional braces, you need to see Dr. Shalman to get the new aligners. He also provides emergency dental care if you're experiencing any tooth pain or an infection.
Shalman Dentistry
44 W 10th St #1A
New York, NY 10011
(10th St, between 5th & 6th Avenue)
☎ (212) 658-1093
Get Directions (Map)